Hello,

Thank you for taking time out to read a little about me. I have been performing since the age of thirteen and have fronted bands for the past 20 years as lead vocalist.  

Over the past few years I've performed as a solo artist, playing cover songs and writing more original material.  When I'm asked what type of music I play, I'll always say "everything from George Strait to Pink Floyd".  

I grew up in a family surrounded by musicians, I have to admit how blessed I am for being able to share what was handed down to me from my Father.  His white Kalamazoo Electric Guitar for starters. I knew I'd be playing that beauty very soon. I was so young when I first held that guitar of his.  I remember my father telling me how my fingers were still too short to play.  I knew the day would come when I could play that guitar as my own. 

ON STAGE !! I don't ever remember being shy, I liked being the center of attention. I inherited that from my Mother's side of the family. I could write a book on some of the characters on my Mother's side of the family. The one memory that stands out the most is the family gatherings. Cousin's, Great Aunts, and Uncles would all show up with instruments in hand. They would play for hours. And the singing they would do, just amazed me. 

That was all the motivation I needed to keep on playing... All through my early teenage years of growing up, I was an accomplished Cello player. Later teenage years, my guitar went where I went.  To this day, that hasn't changed and never will I hope.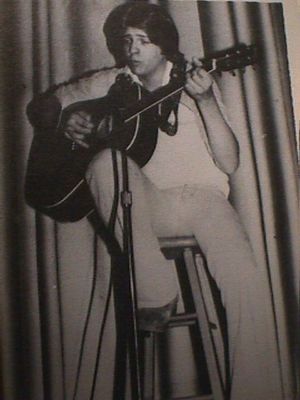 1980           


          I've grown up now with children of my own. Two amazing boys, both musically talented!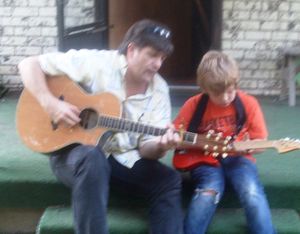 TODAY